Windows Task Manager is a very common utility for some people. Computer slow? Go to Task Manager and kill some processes. Something not responding? Go to Task Manager. I guess Task Manager is pretty good, considering it's a built-in feature of Windows. Well, Sysinternals (which was recently acquired by Microsoft), has a replacement for Task Manager. It's called Process Explorer. I've been using it for a long time and I think you should make the switch. Why?
Process Explorer updates a lot of system info in real time (updates every 1 second).
Process Explorer can be configured to replace Task Manger, so when you click the Task Manager link or hit Ctrl + Alt + Del, Process Explorer will open instead.
Process Explorer can be used to search for thread handles and running DLLs.
Process Explorer can explore each individual process, as the name suggests. You can see events, files, devices, and registry keys being accessed.
Process Explorer is free and requires no installation.
So… now that you're intending to make the switch, I'll walk you though it.
Download
Go ahead and download Process Explorer (1.5 Mb) for free from the Sysinternals website. Unzip the folder. Choose a good location, such as C:\Program Files\Process Explorer\.
Play around
Open procexp.exe and start to explore. You can explore all of the processes running on your machine. You can even see how much CPU time is being used on hardware interrupts (that's an example of the power this utility gives you).

(click to enlarge)

Set Process Explorer to be your new Task Manager
Go to Options > Replace Task Manager. Done.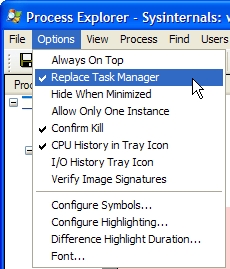 Enjoy and let me know what you like/don't like about this app. I've been using a bunch of the free apps from Sysinternals for years, so let me know what you think about others as well.