UPDATE: See bottom of post!
For those of you with the LG Chocolate, I have good news — free ringtones are possible. It's possible to transfer your own MP3s to your phone just by using Verizon's USB cable. That's all you need to purchase (or borrow from a friend). I'll walk you through the process of cutting a ring tone to 30 seconds and transferring it to your phone.
1. The USB Cord & Drivers

You need the USB cable that comes with the Music Essentials Kit at Verizon. You can purchase this for about $25 — try eBay for even cheaper prices.
Once you get the cord (or borrow it from someone), you need to install the necessary drivers. You can install them from the CD that comes with the kit, or download the drivers for free via iGoneMobile.
2. Cut an MP3 into a Ring Tone
Now, find an MP3 you have and cut it down to about 30 seconds or less. You can use the fantastic Audacity to get this job done. Download Audacity and the LAME MP3 codec. Install Audacity first. Next, unzip LAME and move the lame_enc.dll to the Audacity program folder (C:\Program Files\Audacity\).
Go to Edit > Preferences and click the File Formats tab. At the bottom, click Find Library and locate the lame_enc.dll file you just moved.
Close the Preferences and go back into the main window. Drag an MP3 into the window. Highlight specific areas of the song and hit Delete to delete them; shoot for about 30 seconds or less for your final cut. When you're done, go to File > Export As MP3… and you're done.
3. Send data to your phone with Bitpim
The software that will send data to your phone is called Bitpim. Download and install it. Connect your phone to your computer with your USB cable. To set the phone model, go to Edit > Settings and select "LG-VX8500" under Phone Type. Bitpim will connect to your phone.
Click on the Ringers section on the left nav under Media. Drag your new 30 second MP3(s) into the Ringers area. A Convert prompt will pop up. Change the bitrate to what you want — I like 128kbps, but a lower bitrate will reduce the file size. Click Convert and wait.

When it's done converting, it will allow you to crop and preview the MP3. Just hit OK at the bottom. You might get a warning saying the ring tone might be too big for the phone — just hit Yes to proceed.

Once you are all set with your ring tone(s), click Data > Send Phone Data … to send the MP3(s). Check the button next to Ringtone to send that data.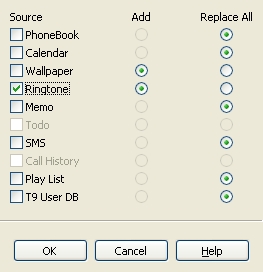 When the transfer completes, unplug your phone and set your new ring tone. That's all there is to it.
UPDATE!!!
Many people are having problems using Bitpim with the latest software version on the LG Chocolate. If you were unable to get MP3s to your Chocolate for ringers, try the steps below. They may not work, but please give them a try and let us know in the comments in they worked or not.
1. In Bitpim, go to View > View Filesystem (make sure there's a checkmark here).
2. Click the Filesystem section in the left nav.
3. Navigate to "/brew/16452/lk/mr" and drop your MP3s into the mr folder.
As before, make sure you first cut your song down to about 20 – 30 seconds (using Audacity or another audio editor).