iTunes 7 has some new and improved features to help people manage their music, movies, podcasts and pictures. One of the long-awaited features is the support for multiple libraries. A library (in the iTunes realm) is an XML file that stores the information about your media you use in iTunes. All of the songs you have in iTunes are referenced in the XML library file. I will show you how to manage multiple libraries with iTunes 7. This is good for people with iPods. You can have one library just for your iPod's music and another for all of your music.
UPDATE: Scroll down to the bottom to see the update.
Get iTunes 7
The first step if to get iTunes 7 if you don't already have it. Get it at the iTunes website.
Copy old files
Now you need to backup your old files. This includes your iTunes Library.xml file and your folder where your music is. In my case, I store all fo my music on my external E:\ drive, so I just need to backup the XML file. The default Windows location for these respective files are in the folder C:\Documents and Settings\USERNAME\My Documents\My Music\iTunes\. Save these files elswhere, like temporarily on the Desktop.
Shift your way to a new library
Click on your Desktop icon of iTunes (or any icon of it), hold down the Shift key (Option key for Macs) and press the Enter key, but keep Shift held down. iTunes should launch a "Choose Library" box.

Click the "Create Library…" button and select a folder to use as your library folder. For example, I named mine, "iPod music" because it's just for my iPod music library.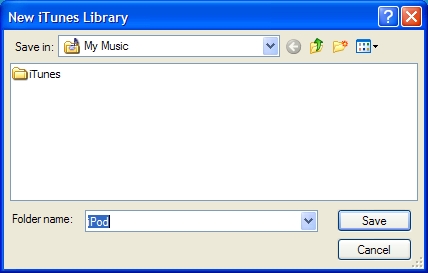 Now when iTunes opens, add in your music for that specific library. For me, I put all of the music I want on my iPod here. Since I have a 30Gb iPod, this would be less than 30 Gbs of music. iTunes will do a lot of stuff, like scanning and whatnot. Once you are finally done, close iTunes.
Follow the same method again for the next library. Click on the iTunes icon, hold Shift and hit the Enter key. Create another library and do the same steps. For this library, I named the folder "all music" because it will have all of my music, including any music on my iPod.
Choose a specific Library for iTunes
Now that you have your libraries made, let's use them. Say I want to update some stuff on my iPod. I need a way to open my iPod library to do that. Just click the iTunes icon, hold Shift and hit Enter. Now when the "Choose Library" box in shown, click "Choose Library…" and navigate to the respective folder and open the library file.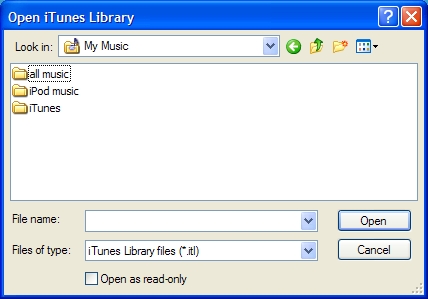 The key to the whole process is to hold Shift when clicking the iTunes icon. That will cause the Choose Library box to pop up. From there you can create libraries or select specific libraries you already have.
Disclaimer: I manage my music myself, I don't let iTunes handle that for me. If you do give iTunes control, you may run into problems that I cannot account for. This method works well for me to manage my iPod separately from all of my music. I am not responsible if any of your media is lost using this method. If you know of problems in specific cases, leave a comment or email me and I can add them in.
UPDATE:
If you do not want to use the method I outlined above, go ahead to download a copy of Libra. This shareware will allow you to create multiple libraries. It's interface has the ability to active the library of your choice. It's basically the same method, but it's all packaged into a GUI. Download Libra now.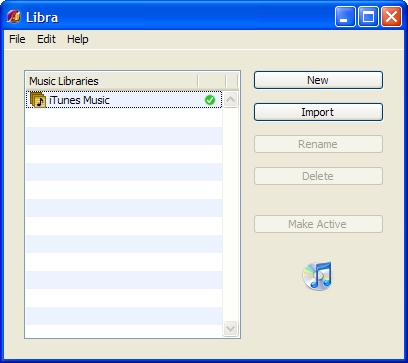 Now click New to create a new library and select a location for the folder. I made my new library in the My Music folder in My Documents.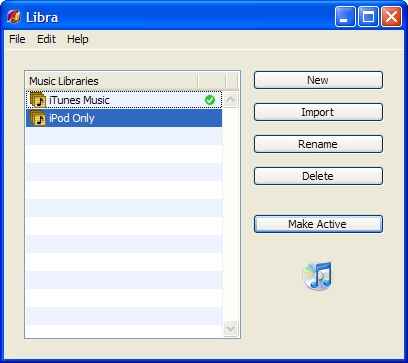 Once you create multiple libraries, just click the library and hit Make Active to make it the active library recognized by iTunes. Now just hit the iTunes icon in the bottom right corner and it will open with your library.