NOTICE: Windows XP ONLY
There's a C++ command-line utility called Macshift that allows Windows XP users to change their MAC address to any other valid address. I've written about how to use it and how to create shortcuts to change your MAC address on-the-fly. I'll first explain how to use Macshift for any MAC change, then I'll show you how to make Windows shortcuts using the command-line options. I've also made a small script to make it easier to use, but the script isn't necessary.
Macshift usage
Macshift is a command-only utility, so you need to learn the options to use it.
-i [adapter name] tells what adapter in Network Cnnections to change
-r tells the program to use a random MAC
-d restores the original MAC
--help shows the Help menu
Example usage:
macshift -i "Wireless Network Connection" 001122334455
This would change your wireless MAC to the one above. Your adapter will be disconnected and reset immediately.
macshift -i "Wireless Network Connection" -d
This would restore your MAC address to the original.
The adapter name must appear exactly as it does in your Network Connections. By default, a wired connection should be "Local Area Connection" and wireless should be "Wireless Network Connection" — you can rename these to make it easier.
Create Windows shortcuts
The first thing you should do is find a permanent place to keep Macshift. Make a folder in Program Files or just throw it in the Windows directory. Right-click it and choose Send to -> Desktop to make a shortcut. Now, just use the command options in the path field of the shortcut. Create as many shortcuts to the Macshift exe as you want. Below are some shortcut examples.
Generates a random MAC.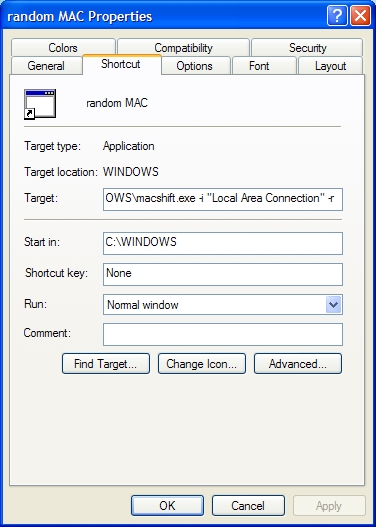 Restores the original MAC.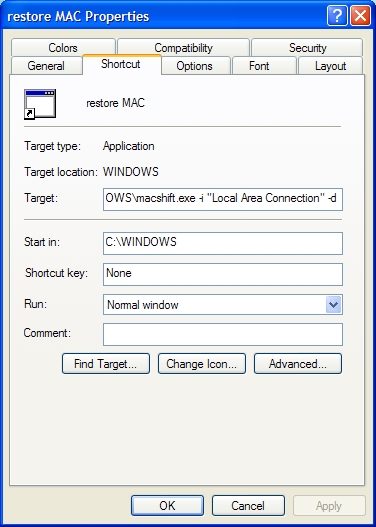 As you can see, I have macshift.exe in my C:\WINDOWS\ folder. All I did was add some options to the end of the path to tell it what to do. You can manually tell it what MAC to use also. Instead of using the -r option, you can put a valid MAC at the end like:
macshift -i "Local Area Connection" 001143641222
Use a script to specify a MAC
I've written a simple script to ask you for the MAC you want to change to. Just run the script, enter your desired MAC and adapter, then hit enter. It's pretty simple. Here it is:
set /P newmac="Enter your desired MAC: "
set /P adapter="Enter the adapter name: "
macshift -i %adapter% %newmac%
If you use this script, you need to place the macshift.exe program in a PATH folder (i.e. a folder that can be run from the command line; see the PATH variable in Environmental Variables). If you're not sure waht that means, put macshift.exe in either C:\WINDOWS\ or C:\WINDOWS\system32. The script is very unnecessary, but if you want to use it, go for it.
Why would you want to change your MAC address?
You tell me. People change their MAC addresses for a number of reasons. Why do you? Let me know in the comments or by email.