I'm sure there are many programs out there these days (free and for $) that will convert files to the iPod format. Well, here is one. It's called 3GP Converter. It converts typical computer movies to the 3GP video wrapper. That means you can convert to many different formats, but we are only concerned with the iPod MP4 format.
1. DOWNLOAD and UNZIP
Download 3GP Converter and unzip the folder. No install is necessary. It might be a good idea to unzip it to a folder in Program Files (e.g. C:\Program Files\3GP Converter\).
2. RUN INITIAL SETUP
After everything is unzipped, run Setup.exe which will set the basic preferences for the converter. You only need to run this setup the first time you use it.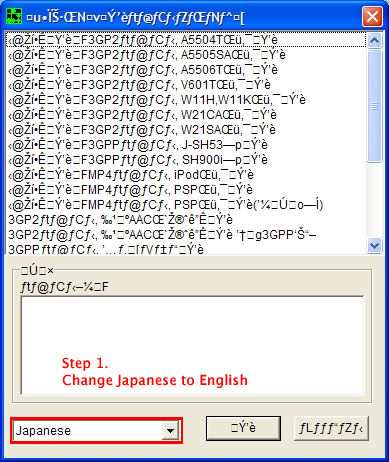 You may notice the only thing you can understand is the word Japansese at the bottom left. Click it and select English to change the language to English.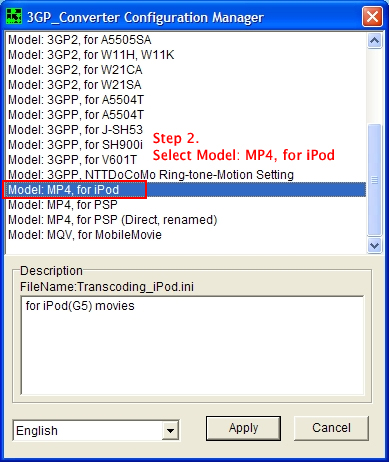 Now that you can actually read the formats, scroll down and select Model: MP4, for iPod. This is the format we will convert to. As you can see, there are a ton of other formats to convert to, so do what you want…if you have a PSP or a phone that supports these formats.
3. CONVERT
Click the apply button on the Setup panel. From now on, you just need to run the 3GP_Converter.exe program.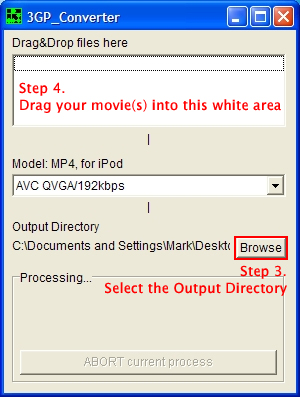 Select an output directory by clicking Browse. You can also choose some other options using the drop-down menu, but I've only tried the default. Feel free to try different bit rates and whatnot and comment on your success/failure in the comments. Now, to convert a movie, just drag it onto the white area at the top. If you drag multiple movies up there, they will queue up for conversions.