If you have ever had an AVI movie file on your computer and you wanted to watch it, you've probably had a problem with figuring out how to watch it. To watch videos and listen to audio, you need specific codecs. A codec (short for compressor/decompressor), is a way to compress a given file, then decompress it upon use. There are so many codecs out there, it's hard to keep track of what your machine supports. I recommend the use of AVIcodec, which will examine a video file and tell you what specific codec(s) you need to watch and listen to it.
It's very easy to use, and there are actually two ways to analyze files:
1. Open the AVIcodec program and either drag a file into the program area, or click the Select button and manually add a file.
2. Right-click a video file > click "AVIcodec : detailed information"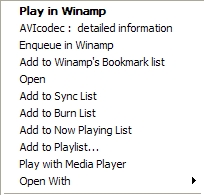 The program will tell you what video codec you need and what website you can go to download it. It will also analyze the audio portion of the movie, so if you need a codec for that as well, you can get it.