These days storage capacities for computers are getting very large. It's not at all uncommon for a standard desktop PC to come with anywhere from 80 to 120 gigabyte drives. This might be good for desktops, but many laptops don't come with such large drives. Regardless of your computer type (desktop or laptop), an alternative storage space option exists called an external hard drive. Pre-built external hard drives are common because they add additional storage to any computer via a cable (USB, Firewire, eSATA, etc.). These External drives are good because you can have all of this extra space independent of one machine — connect to any computer using the transfer type it supports. It's actually very easy to make your own external hard drive which is cheaper than buying a pre-built one.
Two Necessary Parts
To build your own external hard drive, you need to buy two separate pieces of hardware: an internal hard drive and a hard drive enclosure. It's important to buy a hard drive and enclosure that support the same interfaces. There are two main interfaces to choose between: Parallel ATA and Serial ATA. PATA, or just known as ATA (and IDE in many cases), is the older type of interface. There are many cheap ATA (or IDE) drives out there that are more than sufficient for use. SATA drives are much newer and less common. These newer drives use faster internal interface over a smaller cable. This speed adds additional costs. Since SATA drives are newer, they're less common, but eventually they'll be everywhere.
Find yourself an internal hard drive you'd like for storage. Check out the internal hard drives available at Newegg. If you're looking for a cheaper drive, stick with a good old ATA drive. If you're into the latest technology, grab a SATA drive. Below is an image of an internal hard drive made by Western Digital: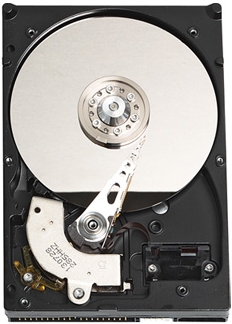 Now that you have your hard drive, you need to find an enclosure to hold it. The enclosure does a few things for the drive. It's a natural case than supports the drive so it's protected. Enclosures are also often made of aluminum to absorb the heat from the drive. In fact, I highly recommend you get an enclosure made of aluminum. The enclosure also converts the drive from its internal interface (ATA/IDE or SATA) to an external interface (USB, Firewire, eSATA). Make sure the enclosure you choose supports the same interface that your drive is built on. You can check out some great enclosures at Newegg. Below is an image of an enclosure made by Bytecc: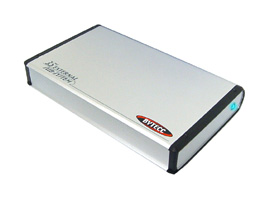 Put the pieces together
Once you have both pieces of hardware, its time to put them together to build your drive. Below is an image of a Maxtor internal hard drive connected to the enclosure's internal interface. The drive is an ATA drive connected to the enclosure's chipset via the gray ribbon cable. This piece slides into the black case above to form the external hard drive. Then, there would typically be a USB or Firewire cable coming out of the enclosure to connect to your computer.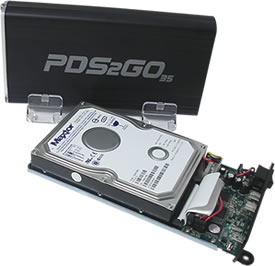 (image from usbgear.com)
Benefits of making your own external drive
There are many reasons for you to build your own external hard drive(s).
1. Its very easy and cheap. If you search well enough, you can find internal drives and enclosures that cost less than pre-built external drives.
2. Since you can actually take out your drive, you can swap in another drive in very little time. If something happens to your desktop and you can't log on, just put it in the enclosure and browse the drive from another machine. You then have full access to it and can scan and clean it up.
3. If something happens and you need/want to buy a new one, you can still use the same enclosure (as long as the interfaces are the same).