By default, Windows Vista doesn't have the standard Shut Down button in the Start menu. In order to shut down, you need to click the right arrow and choose Shut Down. This is a bit inconvenient, however, we can easily restore the Shut Down button in place of the default Sleep/Hibernate button.
Let's get rid of this one:


Navigate to your Control Panel and choose Power Options.
Under your current power setting, click the Change plan settings link: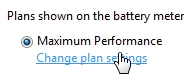 In the plan settings menu, click the Change advanced power settings link:


Scroll down to Power buttons and lid. In the Start menu power button, choose the Shut down option: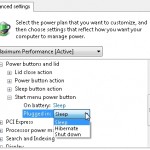 Apply these changes and your standard Shut Down button should be in place of the previous sleep button: